RODINOR® line of plating solutions represents the most comprehensive range of processes offered by Berkem and is divided into the following series:
RODINOR® 100 white rhodium solutions for plating bath
RODINOR® 200 black rhodium solutions for plating bath
RODINOR® 300 white and black rhodium solutions for pen plating
RODINOR® is by far the most versatile line in the rhodium plating market, as, thanks to the different formulations, it is successful in every application challenge.
RODINOR® 100 includes 4 different types of rhodium-based plating bath solutions to achieve extremely white, bright and uniform deposits according to different decorative and technical requirements affecting appearance, durability and quality of the deposit.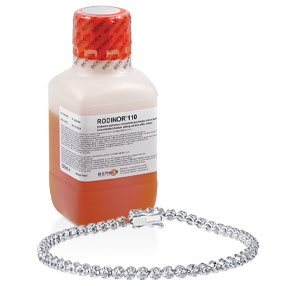 RODINOR® 110
It is the rhodium plating with exclusive formulation, designed by Berkem that expresses its maximum performance on jewelry with stones and on chains with relevant shading.
The innovative additive, which completes the formula, combines high hiding power with maximum penetration efficiency ensuring an incomparable level of brilliant white.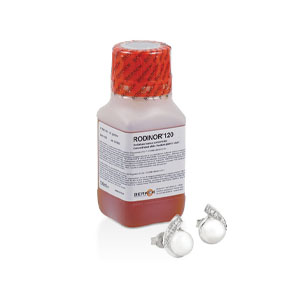 RODINOR® 102 | 120 | 104
They are the "must-have" for jewelry and silversmithing as solutions with high resistance to process pollution and therefore easy to maintain, usable with wide ranges of operating conditions and in diverse and multiple applications.
They ensure repeatable results in small and large plating baths.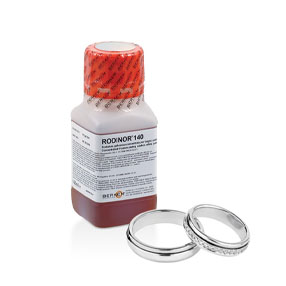 RODINOR® 140
It is a white rhodium plating process characterized by high uniformity of deposit distribution and a special crystallographic structure.
These properties determine, in terms of color, special intensity of reflection of white steel light that gives the jewelry a vivid and brilliant appearance.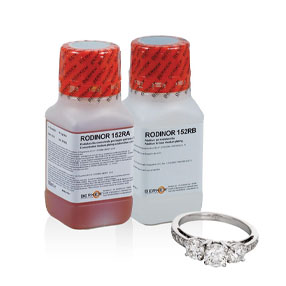 RODINOR® 152
It is the new frontier of jewelry rhodium plating: from the wide applicable temperature ranges (25 °C to 70 °C) to the solution's high tolerance to pollution. The special bi-component formulation, with separate additive, ensures perfect preservation of the solution over time.
The higher L* (91.2) coordinate values, compared to the entire RODINOR line, confer a radiant elegance.